Royal-mining - An average profitable project with tariff plans from 1% to 1.15% per day on an unlimited basis. Added as part of Featured.
Marketing
Royal-mining offers us two tariff plans with a yield of 1% to 1.15% on an unlimited basis. (3 is displayed on the screen below, but the third is not available)
The minimum deposit amount is $ 10.
The minimum withdrawal amount is 0.10 $.
Payments - Manual.
Affiliates
A single-level affiliate program is available, which is 5% of the amount of your partner's deposit.
We pay refback from the project - 2.5%.
How to make a deposit?
Important! Before making a deposit, make sure that you enter the necessary details in your account.
Creating a deposit is available using the following payment systems:
In the personal account on the left is the control panel. You must select the "Deposit" tab.
Then, select the tariff plan, payment system, deposit amount and click "Spend".
Opinion about the project
Royal-mining has been on the blog for quite some time. It has been working for more than 150 days and most investors have already passed the breakeven point.
We cannot be sure of the future work of the project, but we believe that this HYIP can demonstrate long-term and high-quality work.
Pros:
+ Restrained interest;
Cons:
- Long exit to breakeven;
- Delays in payments during manual processing;
Our deposit
Our investment in the project amounted to $ 10.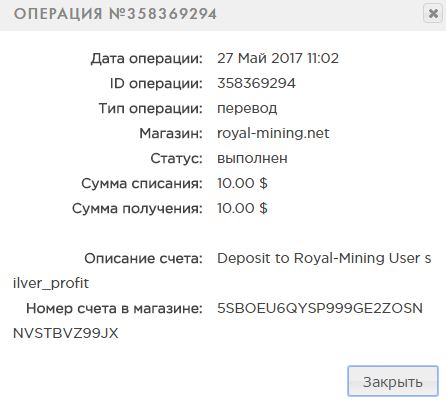 Sign up
Order refback